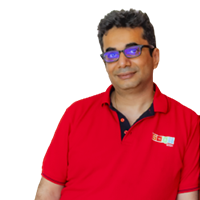 Vishal Gondal
Founder and CEO, GOQii
Vishal Gondal sold his first entrepreneurial venture India Games to Walt Disney and is also popularly known as the father of the Indian gaming industry. A health and fitness enthusiast, he runs marathons, treks and goes skydiving. A notable angel investor, Vishal was listed among the top 50 executives in the mobile content space by the UK based 'Mobile Entertainment' Magazine alongside noted people like Steve Jobs.
His passion for technology, fitness & gaming led him to his next venture' GOQii' which is focused on helping people make a change towards a healthier lifestyle and be the force of good.
He has brought his knowledge and love for interviewing people to a whole you platform by hosting a podcast series 'Beneath the Force: The Vishal Gondal Show, he has conversations with personalities from various walks of life providing a sneak peek into their fascinating lives while in his own style.