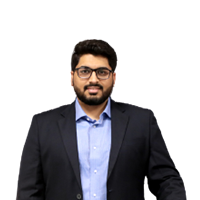 Shivam Rao
Co-Founder & Chief Operating Officer (COO), Trinity Gaming India
Shivam Rao is the Co-founder & COO of Trinity Gaming India, a gaming content and marketing company. Shivam works closely with the talent and content creators and is also responsible for the brand liasioning initiatives.
With more than half a decade of rich experience, prior to his role, Shivam has worked in Robotics Process Automation with global automobile giant Volkswagen in addition to a demonstrated history of work in the gaming space.
Apart from Trinity, Shivam also co-founded Happy Fan which supported streamers to get a secondary income via personalized artworks and merchandise.
He is a graduate from The Northcap University, Gurgaon, Haryana.
Shivam was an avid gamer and is very passionate about things related to gaming. His gaming nickname is 'Mastermind'.