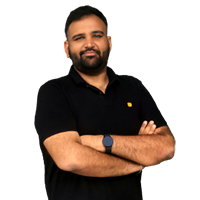 Sagar Pratap Joisar
Founder, Xenon Labs
Sagar Pratap Joisar is the CEO and founder of Xenon Labs, a blockchain and web 3 solution company. With an engineering background and a passion for the digital world, Sagar founded Xenon Labs in 2018 as a technology company which later ventured into a Web 3.0 Brand.

The company provides web 3 solutions to clients, including a no-code platform for web 3 product creation.

Sagar has a strong belief in the power of technology and web 3 and has dedicated his career to advancing in this field. He has a passion for sharing his knowledge and insights with others and continuously works to stay up-to-date with the latest trends and developments in the industry.

As an expert in the technology and web 3 industry, Sagar is always happy to connect with others and share his perspective on the future of the digital world.