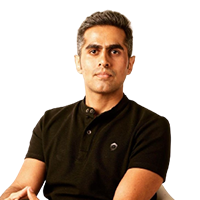 Harshil Karia
Founder, Schbang
Starting his career at the age of 21, Harshil Karia is now a serial entrepreneur with 3 successful startups in the Indian media industry to his name - Schbang, Level and FoxyMoron. With the aim of going from India to the world, Schbang is spread across three major cities with over 1000 people in just 7 years. In 2022, Harshil played an instrumental role in setting up Schbang's International operations in London and Amsterdam reinforcing Schbang's Global Ambition.
Along with Schbang, Harshil spends his time and energies on building Level which is a technology-based app that unlocks the superpower of the mind by using a variety of techniques such as Neurotested meditation and mind muscle workouts. Harshil is building Level along with Ranveer Allahbadia aka BeerBiceps. Their research at Level has showcased the power of meditation on the mind's ability to focus, improve memory, increase cognitive power and provide greater resistance to stress.
Harshil is also a social activist where in 2019, he helped set up the Kindness Jam while also adopting 6 rural villages across Maharashtra to enable their socio-economic development.