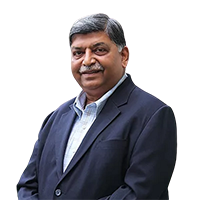 Bharat Patel
Chairman & Director, Yudiz Solutions Ltd
Mr. Bharat Patel is a business leader with over 30 years of technical experience and entrepreneurial aptitudes. He is appreciated for his valuable contributions to Information Technology in India and currently presides over Yudiz Solutions Ltd.
He has a degree in Electronics and Communications and a history in extensive research at Bhabha Atomic Research Centre and ISRO, where he designed Microcomputers and Integrated Circuits.
Mr. Patel's ultimate mission is to leverage innovative IT solutions and products to bridge the visible gap between industries, employers, policymakers and educators. Notable Contributions are Vice-Chairman, Gujarat Innovation Society, Technology Strategist, GESIA IT Association, Director at Fetuz Hatcher Private Limited, Advisor and Board member of IIMTS, Trustee at Society of Promotion of Technical Education and Research (SOPTER).