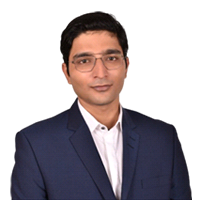 ARJUN KHAZANCHI
Chief Strategy and legal officer, Rooba.Finance
A constitutional lawyer at heart, Arjun gained his experience working with law firms, Litigators, a Judge, and Senior Counsel. He has primarily developed a career around either working for or against State Governments, agencies, and regulators around highly regulated industries and jurisprudence.
In this time as a lawyer, he has worked closely with numerous State Governments, the Election Commission of India, Telcom ReglatoryAuthority of India, the Reserve Bank of India, Non-Banking Financial Corporations, and Fintech companies on all matters of disputes including but not limited to business models, contractual, cross-border transactions, Loan agreements, due diligence, filing of DRHP, and all manner of compliance for start-ups as well.
Arjun also invested and traded actively in the equities, Commodities, and Cryptocurrency markets since 2015. After investing in bitcoin in 2015 Arjun has followed the space closely from a regulatory, technological, and financial perspective. He has been closely working in the blockchain space and has been a contributor to some early DAOs for legal and strategic advice and is passionate about the Web3 space and its ability to revolutionise finance and governance.
He currently is the Chief Strategy and Legal Officer at Rooba.Finance. Rooba is a Digital Asset Management platform that provides a full stack financial infrastructure to financial institutions to Value, Tokenize, Self-Custody, and Trade any asset and leverage capabilities of a De-Fi ecosystem based on Tokenized real-world Assets. Rooba ensures complete transparency and efficiency while striving to be regulatory compliant and create industry-leading regulatory templates to follow that ensure investor protection and prevent systemic risk to the financial system.